Edit: This is a work in progress and I wanted to put something up to get me started. A lot have asked me how I paint my enclosures after I do a reverse etch. I will attempt to explain my evolving process (I say evolving since its changing over time with trial and error).
Whats needed:
I first paint the enclosure with a nice even coat of rattle can paint. As of right now I love using the Rust-oleum STOPS RUST Metallic products. It dries even and the darker metallic paints help the reverse etch to pop out visually.
I bake the enclosure in a over at 150 degrees for 15 minutes then let it cool. If done properly and you take your time you can get good results with 1 coat. Remember, the more coats you put on the thicker the paint becomes and can give you problems when wet sanding. You can literally paint back all the surface area that you etched away and and your etch will be ruined. Some times I put one nice coat on the surface of the enclosure where the etch is located and several coats on the sides of the enclosure.
One painted it will look something like this: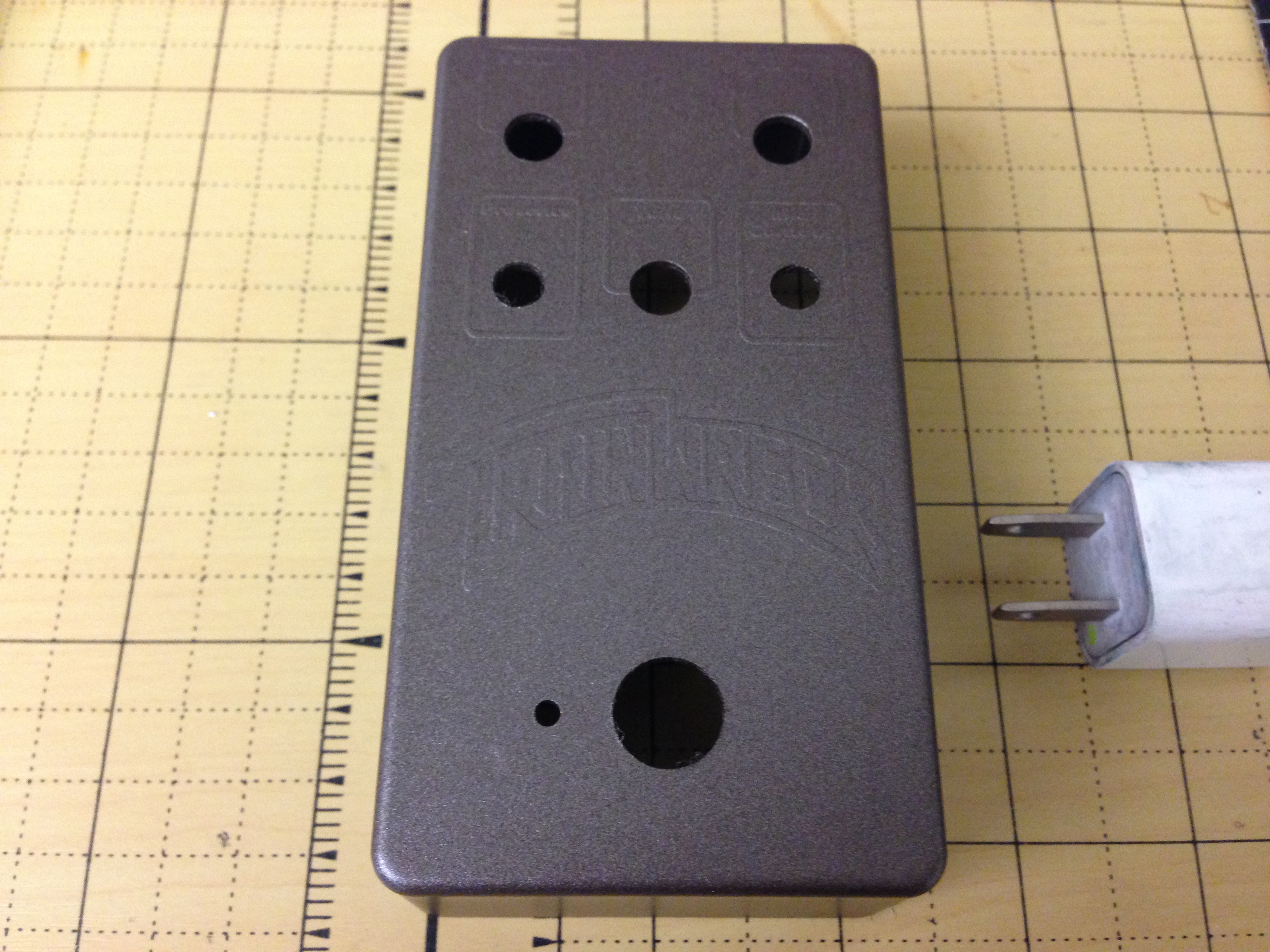 Taking your mini sanding block (iPad charger in my case) wrap a strip of 1000 or 1500 grit sand paper.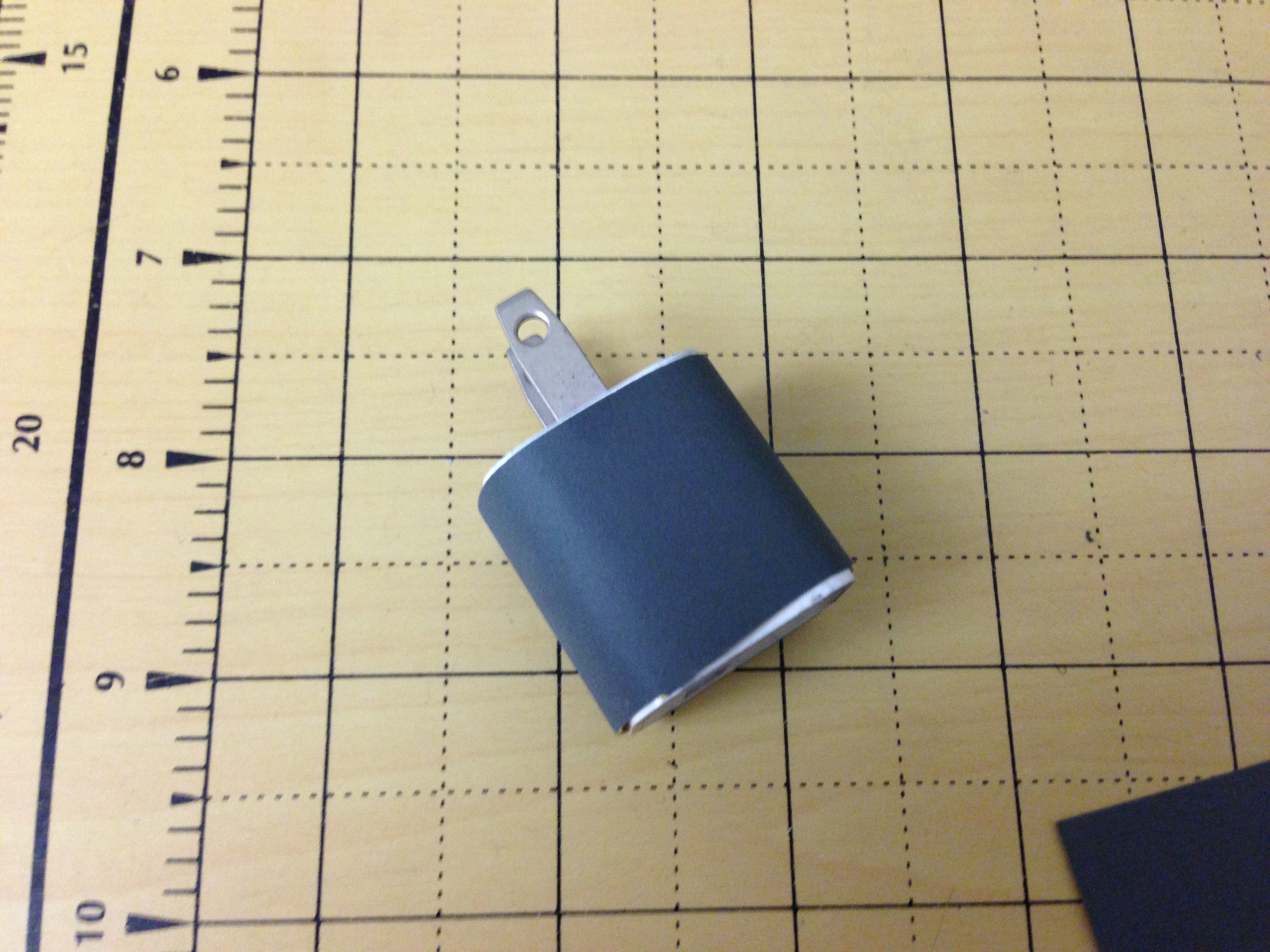 I found that the iPad charger worked well since it is made from hard plastic and retain a flat surface unlink rubber sanding blocks. Laugh all you want but it works.. lol
I do this near my kitchen sink so I can constantly wet the enclosure & sand paper and wash off the enclosure. I then wet the surface of the enclosure and wet the sanding block and begin lightly sanding the raised areas of the etch. Soon you will start seeing aluminum. Do NOT concentrate on one are to long since it may sand away your raised area completely.
NOTE: You may want to start with 1500 grit sand paper so the chances of sanding away an etched area is a bit slimmer but you will find that 1000 grit speeds up the sanding process. Its up to you.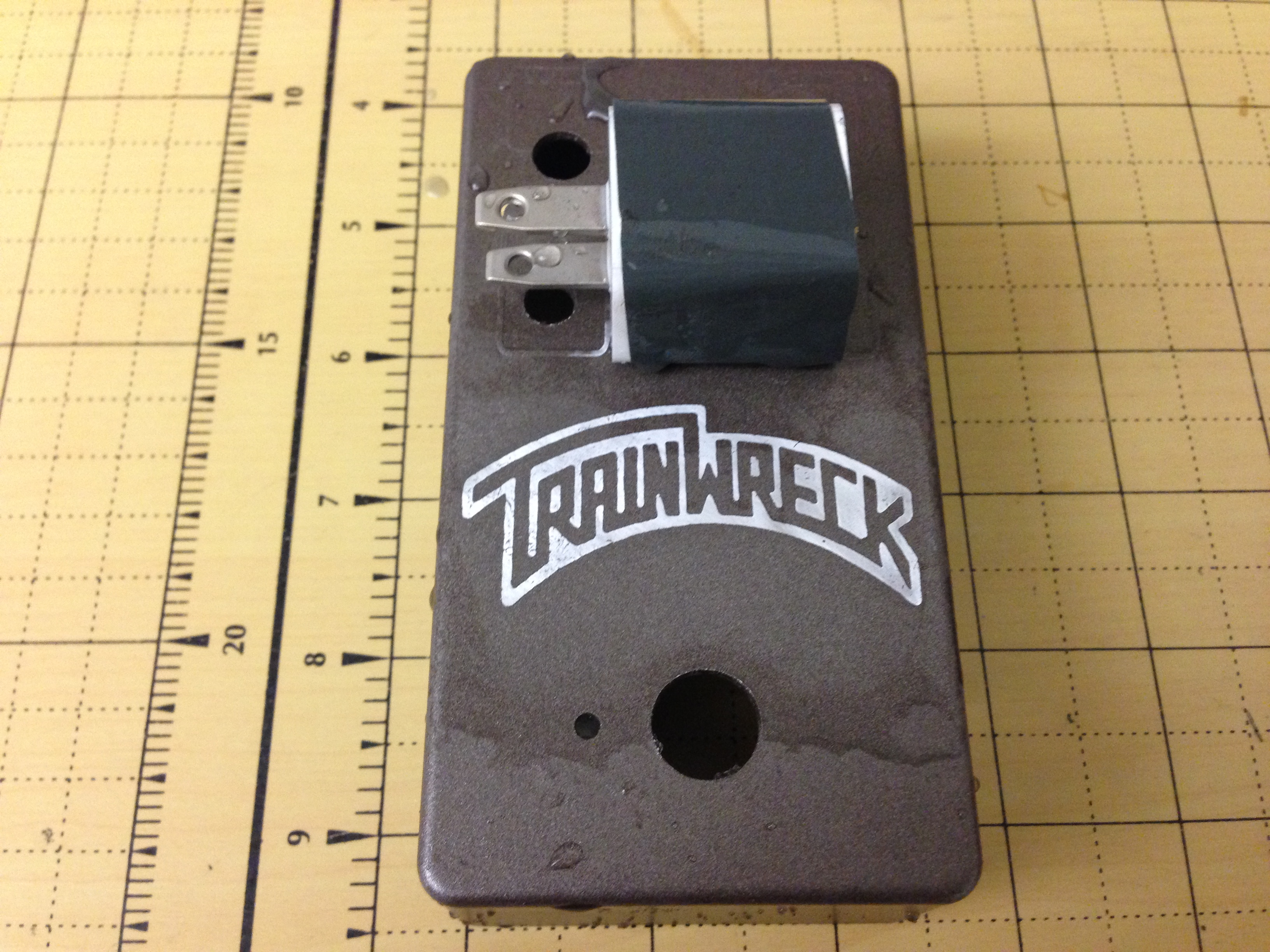 This is not the best etch but it will work for this tutorials purposes…for now.
Take your time and try to stay away from all edges since the paint is a lot thinner over the edges and will sand away with little effort.
With a little patience and time you will have something like this.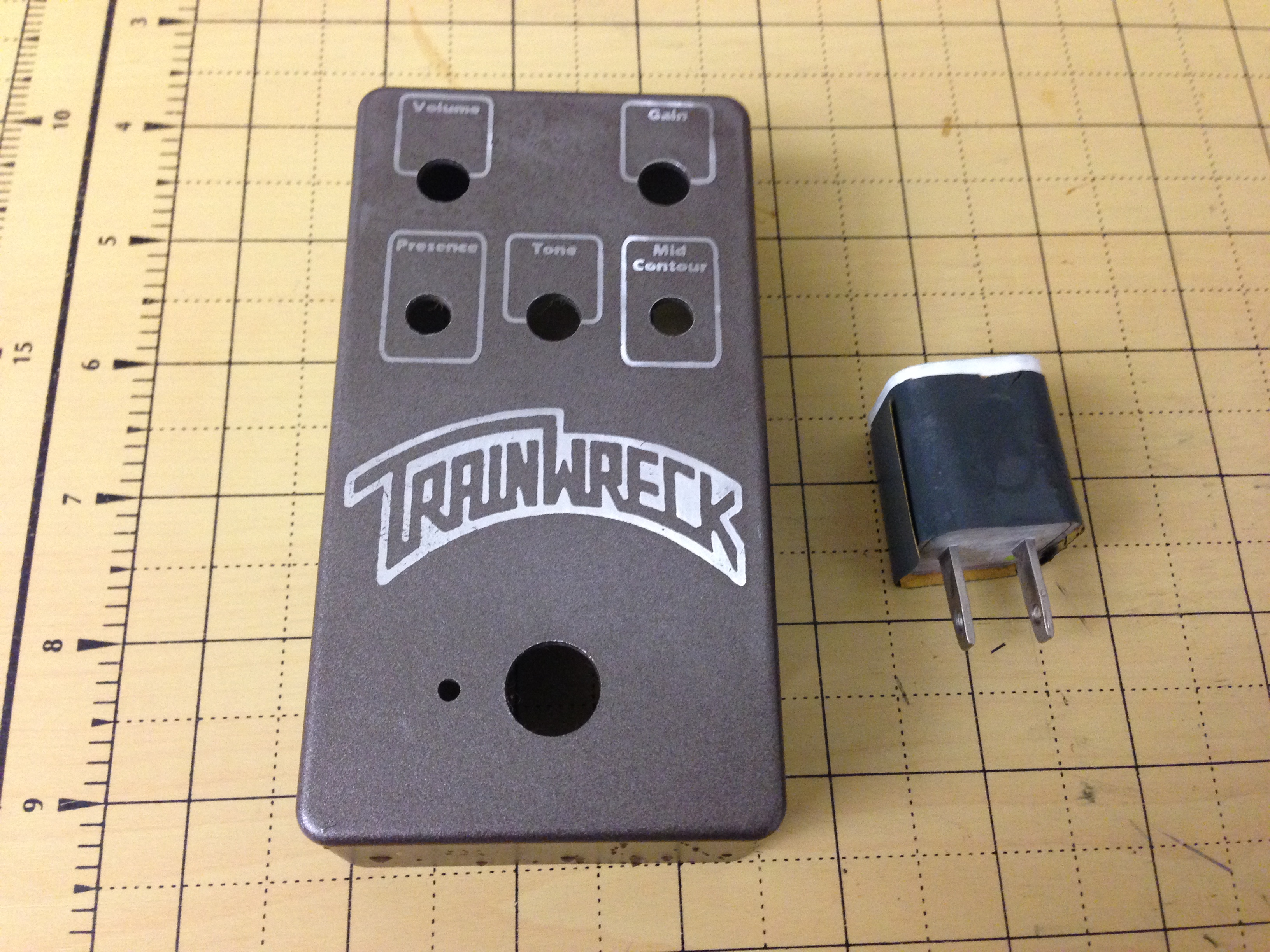 You will see some areas of the paint that dulled a bit do to the sand paper rubbing against it. This freaked me out the first time and I thought I ruined it but, it all disappears when you place a coat of clear on the enclosure.
Make sure you wash your enclosure good and let it dry for 20-30 minutes before spraying your first coat of clear on.
Finished pedal: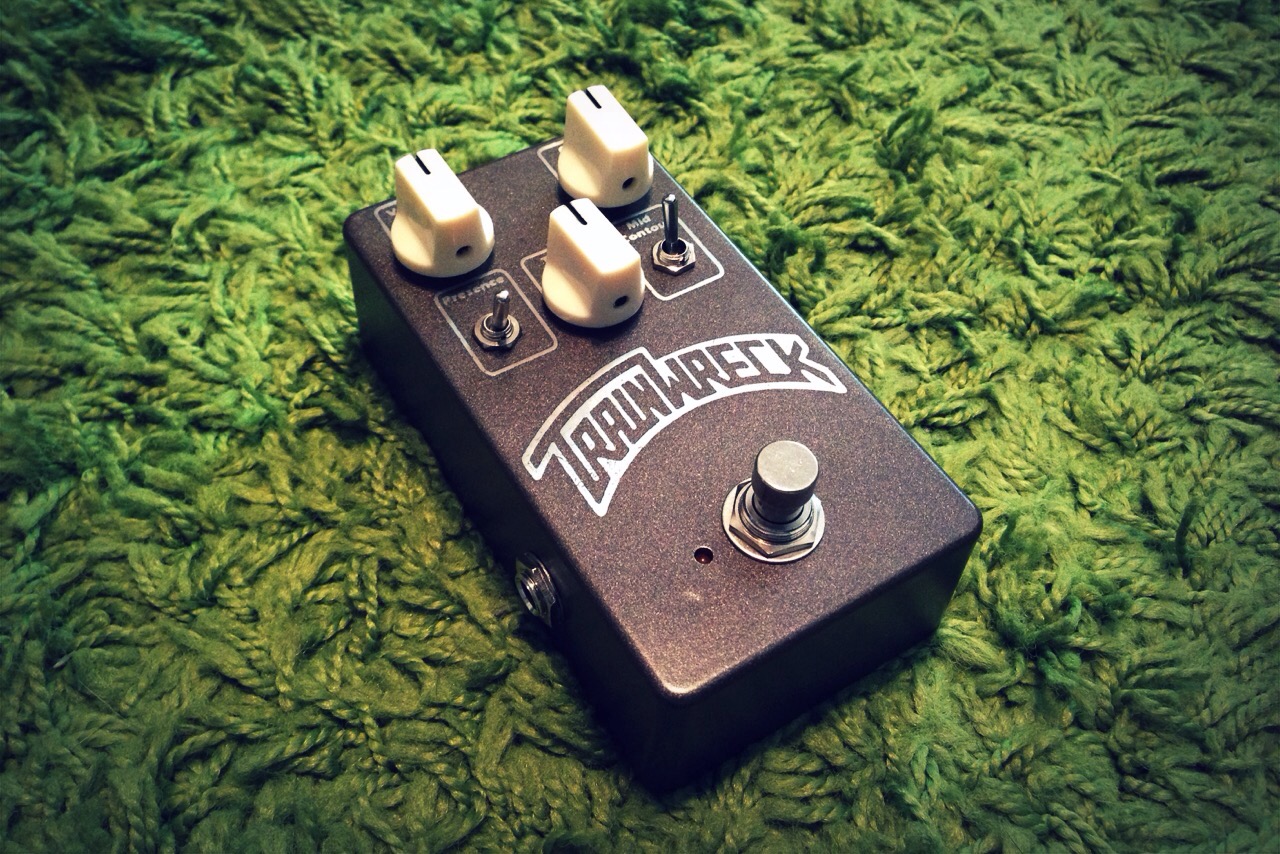 I hope this helps some. As always you can contact me here by leaving comments or look for me (selfdestroyer) over at Madbean's Forums.